Chagrin Falls Schools has a strong commitment to offering Advanced Placement (AP) courses. The high school currently has 28 courses across all core content areas, world language, art, computer science, and music.
These AP courses are developed by The College Board and are audited to ensure that the content and rigor provided within them is consistent for all AP students across the country and beyond. AP Exams administered each spring are taken by AP students. Passing scores (3 or higher) from these exams earn college credit in all public 2- and 4-year Ohio colleges and many private and out-of-state schools.
In many area high schools or school districts, teachers of AP courses may be the only teacher of a specific AP course. This means that collaborating with another teacher who has similar challenges, goals, and interests related to a specific AP course may be impossible on a local level.
Several years ago, when the AP Classroom platform was unveiled by The College Board, Chagrin Falls Schools partnered with other area districts to provide opportunities for AP teachers to receive professional development, collaborate with role-alike teachers, and learn together. Participating AP teachers indicated that the opportunity to learn, work through challenges, discuss resources, and create projects and assessments with peers was of great value. Many groups of participating AP teachers continued to meet as small groups outside of the AP Collaborative sessions because they found the opportunity to work with other teachers of the same AP courses to be helpful, forging professional relationships which extended far beyond this initial school year.
"In 2022, our District has partnered with Orange, Solon, Kenston, and West Geauga Schools to create an AP Collaborative 2.0 to gather our AP teachers and those from other area districts by content area and AP course for day-long sessions," said Director of Curriculum Becky Quinn, Chagrin Falls Schools. "At each meeting, the teachers analyze data to address individual strengths and weaknesses, share instructional best practices and resources, learn about the latest features in AP Classroom, and review newly released AP courses from The College Board. Time also was available to participating AP teachers to work in smaller groups."
Below is an overview of the AP Collaborative 2.0 sessions which occurred in fall 2022. All participants were given access to an AP Collaborative 2.0 Teacher Member Directory, which provides contact information to connect AP teachers with role-alike teachers across the region.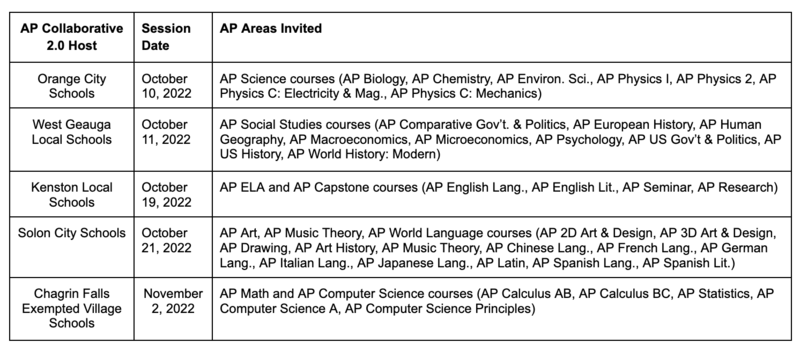 Now that the initial sessions have concluded, the AP Collaborative 2.0 lead districts will gather feedback from participants and use it to guide the design of future large-group and/or targeted sessions. Future meetings may occur during professional development days, planning times, and/or during identified times outside of the school day/year.
The group strives to serve as a resource for AP teachers across the region to collaborate in promoting the success of AP students across the region. "We are committed to providing personalized professional development to maximize the potential of our teachers and their students," said Principal Mike Janatovich, Chagrin Falls High School. "The AP Collaborative 2.0 is one of the ways we seek to accomplish this."